To fulfill the promise of the right to read for blind, visually impaired and other print disabled people, EIFL is supporting ratification of the Marrakesh Treaty for persons with print disabilities in partner countries, and its implementation into national copyright law.
In a project supported by the EIFL Copyright and Libraries Programme, the Mongolian Libraries Consortium (MLC) led a campaign for ratification of the treaty in Mongolia, in partnership with the Mongolian National Federation of the Blind (MNFB).
As a result, Mongolia became the 10th country to ratify the Marrakesh Treaty on 23 September 2015. Mongolia's ratification marks the halfway point towards entry into force of the global copyright treaty, and a significant step forward in improving the lives of people with print disabilities.
Background
Access to learning and information is extremely limited for Mongolia's 16,500 blind and visually impaired people. Most are unemployed and live in poverty. A 2011 survey by the Mongolian National Federation of the Blind (MNFB) found that only 16% of its members had completed primary or secondary education, and just 1% had graduated from university.
A major contributing factor to unemployment and poor education among blind and visually impaired people is lack of access to books and other learning materials in accessible formats such as Braille, audio and large print, and digital formats.
The lack of accessible reading materials – known as the 'book famine' - is partly due to barriers created by copyright law, barriers that the Marrakesh Treaty seeks to remove. It does this by creating an international legal framework that allows the making of accessible formats, and the sharing of accessible format copies across borders.
National context – the timing was right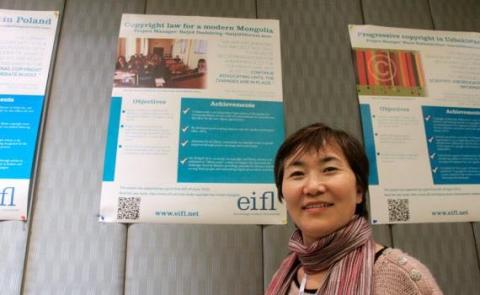 With support from EIFL's Public Library Innovation Programme (EIFL-PLIP) in 2010/11, Ulaanbaatar Public Library (UPL) and the Mongolian National Federation of the Blind (MNFB) built two recording studios to create talking books in digital DAISY format. As a result, around 770 Braille and audio-books are now available, opening up new worlds of learning for people with vision impairments.
Following the success of the UPL DAISY Talking Books service, the Social Welfare law was amended in 2012 so that all blind and visually impaired people in Mongolia have the legal right to be issued with a free DAISY talking book player.
In order to realize the opportunity for equal access to information, more content in accessible formats was required. But a major challenge was getting the permissions needed to create accessible format copies, for example, to digitize textbooks for blind children.
"Publishers, who own all the rights, do not permit the DAISY Centre and MNFB to convert the textbooks", said M. Tsengel, DAISY Expert at Ulaanbaatar Public Library (UPL). "So blind children learning at school have no modern books, and rely instead on ancient Braille textbooks printed in Russia during the socialist period. We need to be allowed to access DAISY content from organizations in other countries. We have raised the hopes of blind people in Mongolia to read books, copyright law can't let them down."
In order to remove the copyright barriers, the Mongolian Libraries Consortium (MLC) decided in 2014 to advocate for early adoption of the Marrakesh Treaty, and, with support from the EIFL Copyright and Libraries Programme, took the lead in organizing a campaign for ratification of the treaty in Mongolia.
"I am so proud that Mongolia supports the adoption of an international legal standard to ensure that blind people have the right to read, a basic human right that librarians know is so important for education, employment and personal development. I'm delighted that the hard work of MLC and the campaign team has paid off. We are very grateful to EIFL for their support, without which this work would not have been possible". Baljid Dashdeleg, EIFL Copyright Coordinator, Mongolian Libraries Consortium.
MLC project timeline
June 2014 - September 2015
Main activities and achievements
June 2014:
Consultations on the ratification process took place with policy makers including the Intellectual Property Office (IPO), Ministry of Foreign Affairs, and the Ministry of Culture, Sport and Tourism.
July-December 2014:
The MNFB translated the Marrakesh Treaty and related documents into Mongolian, and presented the translation to the Ministry of Foreign Affairs for approval (before any treaty can be ratified in Mongolia, it must be officially translated in Mongolian).
In December 2014 the Mongolian translation of the Marrakesh Treaty was approved by the Ministry of Foreign Affairs as an official copy of the Treaty. Braille and DAISY formats were created for use by the blind community.
The campaign team met with policy makers and government officials including national delegates who attended the WIPO Diplomatic Conference to conclude the treaty that took place in Marrakesh in June 2013.
The campaign generated national media coverage. On 26 December 2014 the national TV station MNB2 broadcast a 30 minute programme dedicated to the Marrakesh Treaty. The programme was live streamed on IPTV and re-broadcast in January and February 2015.
January – July 2015
The campaign team monitored and supported the process of ratification through different political and legal stages, and sensitized Members of Parliament to the Treaty and its benefits for blind and visually impaired people.
On 5 June 2015 the Cabinet of Government agreed to send a bill of ratification to Parliament.
On 9 July 2015 the Parliament of Mongolia voted to ratify the Marrakesh Treaty by an 86% majority.
On 23 September 2015, the government of Mongolia ratified the Marrakesh Treaty by depositing its instrument of ratification with WIPO.
Next steps
Two final steps are required. Firstly, the treaty must enter into force globally. The treaty enters into force when it has been ratified by 20 WIPO member states.
Secondly, the treaty's provisions must be implemented into Mongolia's copyright law, in particular provisions allowing the sending and receiving of accessible format copies across borders.
Then libraries in Mongolia can immediately start to provide accessible format copies to blind and visually impaired users, and can send and receive accessible format copies from libraries in other countries that are party to the Treaty.
"Libraries and blind people's organizations are natural partners when it comes to providing information and reading materials to people who are blind and visually impaired. WBU values its work with EIFL to ensure that the Marrakesh Treaty enters into force as soon as possible." Maryanne Diamond, Chair, WBU Marrakesh Ratification Campaign, Immediate Past President, WBU